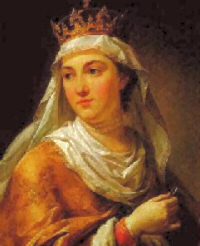 St. Hedwig
Hedwig was born in 1174 in Bavaria, the daughter of the Duke of Croatia. She was the maternal aunt of St. Elizabeth of Hungary. She married Duke Henry of Silesia and raised seven children, with the boys being quite a handful. She outlived all but one of her children, Gertrude. Hedwig persuaded her husband to use her dowry to found a Cisterian monastery for nuns at Trebnitz. Their daughter Gertrude later became abbess of the monastery.
Hedwig led a life of piety and solicitude for the sick and poor, including their religious education. She lived a life of poverty and humility, despite her prominent position. Every day, even in winter, she would walk barefooted, so her feet were in bad shape. A story tells us her husband sent her a pair of shoes, insisting that she not be without them — so she kept them under her arm. After the death of her husband Hedwig completely renounced the world and entered the monastery of Trebnitz which she had founded. She died on October 15, 1243 and is venerated as patroness of Poland. She is not to be confused with St. Hedwig, Queen of Poland (1371-1399), canonized by John Paul II. (Her feast day is February 28.)
St. Margaret Mary Alacoque
A self-effacing nun in the Visitation Convent at Paray-le-Monial, France, was inspired by the Lord Jesus to establish the devotion of the Holy Hour. Her name was St. Margaret Mary Alacoque, and from the age of seven, when she received her first Holy Communion, she had always manifested an intense love of the Most Blessed Sacrament. Our Lord appeared to her often, usually as the Crucified Christ. Her simplicity caused her to feel that these apparitions were also granted to others who had recourse to Jesus in the sacrament of His love. Once the Master appeared to the young girl as she was returning from a dance and reproached her for not espousing Him.
When twenty-four years of age, Margaret entered the cloister, choosing the most menial tasks. Gifted with intelligence and common sense, she made great progress in holiness. Our Lord entrusted to her the mission of establishing the reign of the Sacred Heart among the children of men. Criticism did not hamper her zeal, and her charity toward her opponents won them over to the cause of the Master.
In the first revelation of the Sacred Heart to the nun, Our Lord made known His burning desire to be loved by all men, and His design of manifesting to them His Sacred Heart with its treasures of mercy. Margaret Mary communicated Our Lord's wish that the faithful receive Holy Communion on the first Friday of each month and observe the Feast of the Sacred Heart on the Friday after the octave of Corpus Christi.
After nineteen years in the convent, St. Margaret Mary died October 17, 1690. Many pilgrims to her tomb have sought and obtained favors. Through her apostolate of devotion to the Sacred Heart many sinners have repented and found grace with God.